9 out of 10 drownings happen on inland water, well within rescue distance. Most victims owned a Life Jacket (properly called a Personal Flotation Device or PFD), but weren't wearing it when they drowned. Owning a PFD is not enough. You must wear it every time you are on the water. Each time you don't wear it, the odds are against you. Today's PFDs are far more comfortable than the old orange generic ones you may have seen at summer camp. There are a ton of PFDs on the market and they all serve different functions. Which one should you get?
The U.S. Coast Guard splits PFDs into three categories, plus a few speciality PFDs.
Type I: Best for all waters, open ocean, rough seas, or remote water, where rescue may be slow coming.
Type II: For general boating activities.  Good for calm, inland waters, or where there is a good chance for fast rescue.
Type III:  For general boating or the specialized activity that is marked on the device such as water skiing, hunting, fishing, canoeing, kayaking and others.  Good for calm, inland waters, or where there is a good chance for fast rescue.  Designed so that wearing it will complement your boating activities:
Most PFDs you find at retail stores like Gig Harbor Watersports are Type III and we have selected the ideal pfd's for our local water activities. There are two broad categories within Type III floatation aids.
Inflatables
Most inflatable PFDs on the market are powered by a CO2 cartridge to inflate. The cartridge inflates when the user pulls a rip cord (the yellow t-handle in the pictures). These come in either a waist version, or a more traditional style. There are also inflatables that activate when they come in contact with water. A dissolvable bobbin with a spring/pin arrangement punctures the CO2 cartridge and inflates the PFD. The last type of inflatable in orally inflated. 
The biggest disadvantage of the inflatables is that they require far more maintenance to ensure they work properly. There is a higher risk of malfunction. Lastly, if you use the rip-cord style, the assumption is that you will be able to pull the rip cord. In an emergency this isn't always the case. We suggest the inflatables to people with experience who are on calm water.
Traditional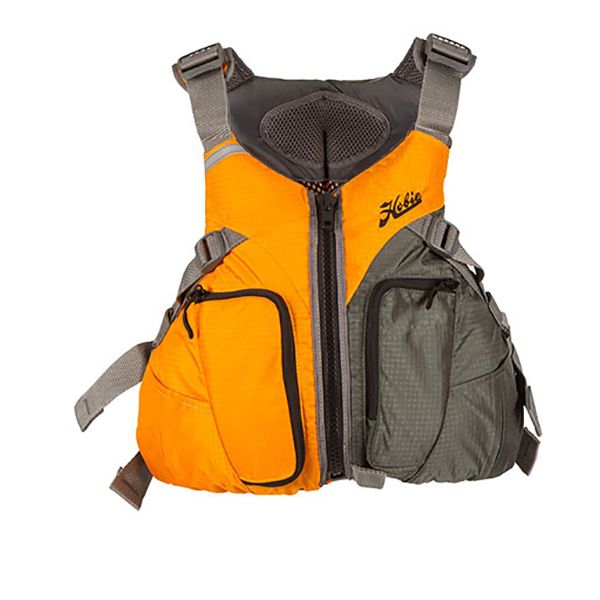 These PFDs generally use buoyant foam to help the user stay afloat. In recent years companies have made a huge effort to make these PFDs comfortable and breathable. Fishing specific PFDs come with extra pockets and mesh to help with tackle management. Hobie has released PFDs that ride higher than traditional devices to ensure that there is no annoyance when using their Mirage Drive system. We suggest this type of PFD for most users. It will keep you afloat even if you can't pull a rip cord in an emergency.
If you plan on tackling rough, remote, or open waters where rescue may be a long time coming, you should invest in a Type I PFD that will flip you right side up even if unconscious and keep you in that position. For most of us doing most recreational activities a Type II or Type III is a perfect, comfortable solution to help keep you safe without encumbering the activity.